Shirley Mueller has been healing and teaching for over 25 years. Her healing work begun when she received messages from her Angels. As a child, Shirley first experienced conscious living when she was introduced to the healing properties of herbs by her grandmother. She later became a Spiritual Painter, having her Angelic paintings exhibited in Germany, France, and America. In 1989, Shirley received the award certificate for outstanding achievements in art and culture in Zurich and the Gold Euro Badge of Honor.
In 1986, while on a pilgrimage in Bethlehem to visit Jesus Christ Holy Church, a Christian Angel appeared telling her she is loved and protected. In 1987, Shirley was awakened at 3.30 AM by a bright White Light. When she opened her eyes, she saw Jesus Christ looking at her.
In 1992, through the guidance of her Master Angels, Shirley began her TAO COSMIC HEALING and CHI KUNG education. She learned the Traditional Chinese Feng Shui & Business Feng Shui. In 1994, Shirley's Healing Channels opened as a REIKI Master and Teacher. She also went to Japan to pay homage to the Great Holy Kamakura Buddha where she purchased her first Buddha statue. In 1995, Shirley started teaching evening classes to help businesses and companies with their internal architectural designs and interior decorations using the Flying Star Feng Shui to optimize their High Health and Wealth.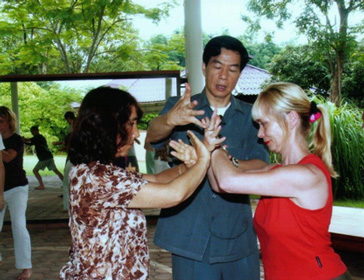 Shirley continued her study of Naturopath in Germany and China and earned a certification in Zhuang Ethnic Medicine at Guangxi Traditional Chinese Medical University. She also received a Medicinal Feng Shui certification in 2002 from Professor Dr. Liu Guangrui, the Director of the oldest TCM Museum VR Chinas/ Chongquing. In 2003, Shirley became a graduate of TUINA Therapy at the University of Medical Sciences, Acupuncture & Massage, Chongquing, China. Her teacher was Professor Chengling Tang.
With guidance from her Master Angels, Shirley opened VITA HARMONY Healing TAO Center, the first Private Feng Shui School in Europe in February 2002. In addition to teaching REIKI, she helps to open Channels and Heals local and distant clients. Shirley also attended the World-renowned TAO Grandmaster Mantak Chia's Universal Healing TAO Academy, in Thailand. She received certifications in Cosmic Healing CHI Kung Teacher, and Medical Chi Ney Tsang Abdominal Massage I & II. Upon having two Angel Masters from the TAO Garden followed her home to Germany, Shirley began healing her patients with Cosmic Healing Qi. In 2003, she received Universal Healing TAO Instructor certifications from Grandmaster Mantak Chia in Cosmic Inner Smile, 6 Healing Sounds, 5 Elements Chi Kung, Cosmic Orbit, Chi Self Massage, and Iron Shirt Chi Kung I.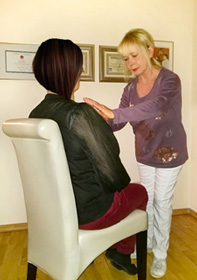 In 2017, Shirley continued to enhance her mastery of healing others by attending Master Jian Xiong Ning classes in Hainan, China. She later became a certified Master and Teacher of Zhineng Healing QiGong.
Today, Master Shirley Mueller, Universal Healing TAO Senior Instructor, continues to heal clients in Germany, Europe, Asia, and the United States.
She also teaches workshops on COSMIC HEALING in Germany
and internationally.
VITA Harmony Healing TAO Center
Germany, near Frankfurt.